100. The Sex and the City quartet hates each other
Sarah Jessica Parker has always said that the most hurtful thing about her time on the show was the persistent chatter that the four women at the center of the show couldn't stand each other. After nearly two decades of showing up at each other's movie openings, charity events, and assorted galas, they still can't shake the big rumor.
99. Cameron Diaz only washes her face with Evian
This rumor is actually kinda true. Diaz said that when she's on a film set she doesn't like to wash her face with the tank water in the trailer and uses bottled water instead. But does she do it all the time? We hope not.
98. Jason Statham's character in The Transporter is gay
Everyone assumes that because Statham's Frank Martin is such a tough guy action hero that he has to be straight, right? Louis Leterrier, who directed the first two installments of the franchise said he always imagined the character as gay, but no one else thought so. When the third movie got a new director, a reporter asked Letterier about him turning the character straight. Leterrier replied that he rewatched his old movies and they weren't that gay after all. But for those who want to believe it, go ahead.
97. The creator of Mad Men made January Jones' life a living hell
Throughout the acclaimed AMC series' run, critics constantly wondered why Jones's Mad Men character Betty Draper was such a monster. Then, when Jones's character gained a ton of weight between seasons, everyone assumed there was a full-on feud between the actress and controlling creator Matt Weiner. That was the only reason people could think of why he made the formerly gorgeous Betty into a fat beast. In reality it might have been just a clever way to cover Jones's real life pregnancy.
96. Michael Jackson is Dave Dave
When Dave Dave (né Dave Rothenberg) was a kid, his father doused him in kerosene and set him on fire. Michael Jackson paid for many of his surgeries. Now certain internet whackadoodles think that Jackson is really alive and disguised as Dave Dave. This seems as likely as Jacko owning the Elephant Man's bones.
95. Kurt Cobain wrote Hole's Live Through This
Because a woman couldn't possibly be equally (or more) talented than her partner, the release of Hole's second studio album sparked speculation that the Nirvana front man wrote the album for his wife, Courtney Love. The rest of the band says this is not the case and Love defends herself in the most Courtney Love way possible saying that when Cobain asked to help she said, "No fucking way, man! I've got a good band, I don't fucking need your help."
94. Damon Albarn wrote Elastica's self-titled debut album
See above, except substitute the Blur front man with his then-girlfriend Justine Frischmann. Albarn did play keyboards on some tracks on the album, but Frischmann wouldn't even let him use his real name because she knew such accusations would fly. He's credited as Dan Abnormal instead.
93. Steven Spielberg directed Poltergeist
Spielberg wrote and produced the 1982 horror movie, but it was directed by genre master Tobe Hooper, who made Texas Chainsaw Massacre. Because Spielberg was so active on set, and Poltergeist looked similar to previous movies, many believe to this day that the Jaws director did all the heavy lifting. There was even an investigation by the Directors Guild of America, but they determined that Hooper helmed the classic. Could have fooled us.
92. Geraldo Rivera was born Jerry Rivers
Some say that the talk show host, who was getting in fights with neo-Nazis before it was cool, changed his name so that Latino viewers would be more fond of him. That claim is as empty as Al Capone's vault.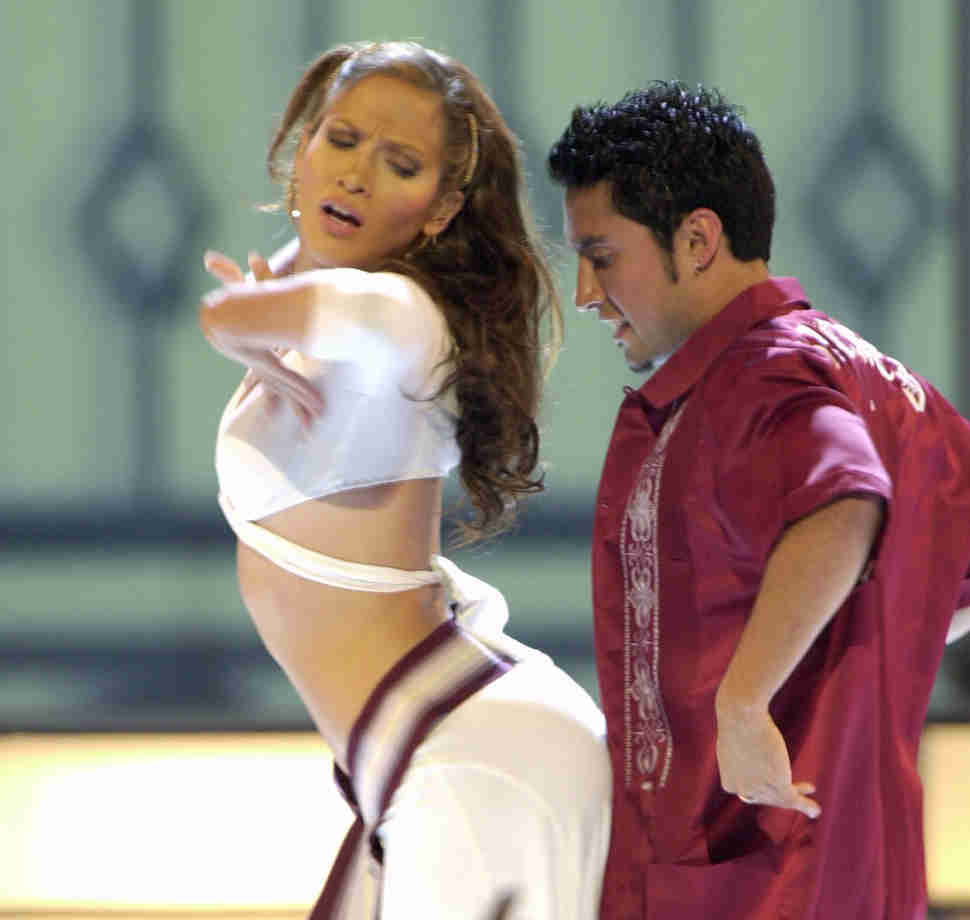 91. Jennifer Lopez insured her butt
After tabloids printed that Jennifer Lopez took out a $27 million policy on her famous backside, she had to go on late-night television to deny that rumor. However, after years of looking at it, many "appraisers" would probably give it a similar value.
90. Jacqueline Susann and Ethel Merman were lovers
Unless you're a gay man of a certain age, you may not have heard that the Valley of the Dollsauthor and the Broadway diva supposedly had an affair. Many believe that widely reported incidents of Susann teaching Merman how to strip for Gypsy, and showing up at her door shouting, "Ethel, I love you," led to steamier fiction. But what happened behind closed doors we'll never know.
89. Curt Schilling faked his infamous bloody sock
In 2004, the Red Sox faced off against their mortal enemies, the Yankees, for the American League Championship. The game reached miracle status when team doctors stabilized an ankle injury plaguing star pitcher Schilling, who threw an incredible game as blood seeped out of his wound. Naturally, some sore losers say Red Sox team members painted the sock, or filled it with ketchup, so that Schilling could have even more glory. To answer that, Schilling tweeted a picture of his ankle injury.
88. Michael Bay's secret biological father was a Hollywood legend
As a director, Bay is known for explosive action movies like the Transformer series. He might have inherited more than a style from director John Frankenheimer, who made The Manchurian Candidate. Bay was adopted and, while searching for his biological parents, history revealed that Frankenheimer had a one-night stand with his mother and might be his real dad. Gene tests later proved otherwise — at least that's what Frankenheimer says.
87. Jan and Marcia Brady hooked up
While many of The Brady Bunch kids have opened up about their peccadilloes on set, there is still one case of she said/she said that hasn't been resolved. In her memoir, Maureen McCormick, who played Marcia, says she made out with co-star Eve Plumb, who played Jan, one day at work. Plumb denies it. Sure, Jan.
86. Big Daddy Kane told Oprah he has HIV
After Eazy-E died in 1995 due to complications associated with AIDS, there was a witch hunt for other rappers who had HIV. For some reason there is a collective misremembrance that Big Daddy Kane went on the Oprah Winfrey Show and told the host he had the virus. No such footage exists. Unless the Illuminati has it and is keeping it a secret.
85. Bill Gates is Satan
If you add together the ASCII values (Where A=65, B=66, etc) in Bill Gates III's name, it adds up to 666. If that's not proof that he's the Antichrist, then just remember that stupid talking paperclip from Microsoft Word.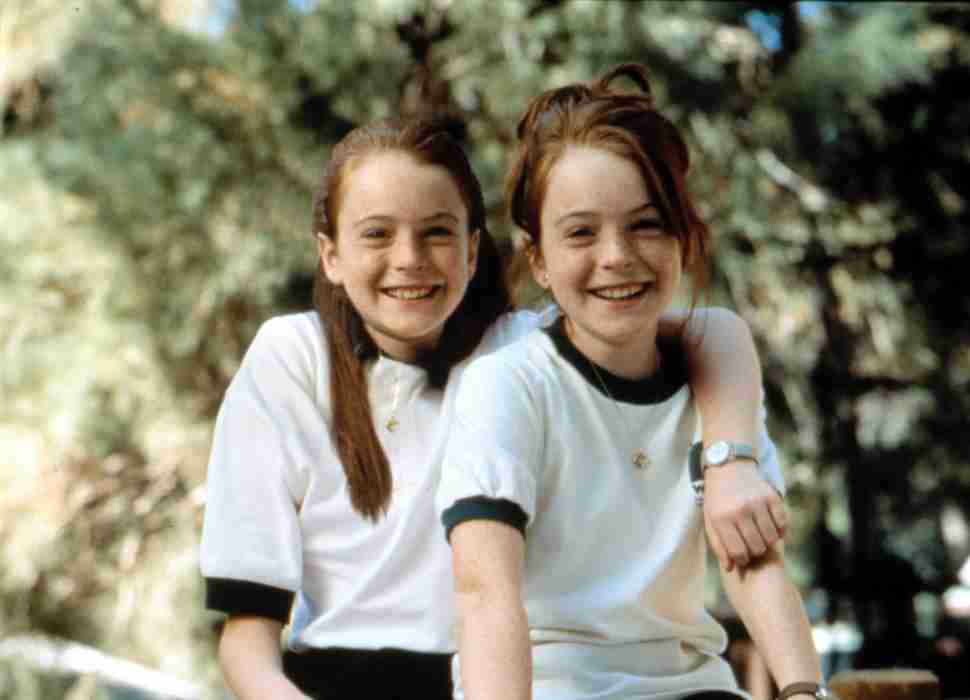 84. Disney murdered Lindsay Lohan's twin
Everyone knows that young Lohan made her big splash playing the dual roles of twins in the remake of The Parent Trap. Well, not everyone. Some think she had a sister named Kelsey who acted alongside of her, and when it became obvious Lindsay was the better actress, Disney killed her not-as-talented sister. What is this The Hunger Games? The proof is that Lindsay had so many problems later in life, because she feels responsible for her dead twin.
83. Diane Sawyer was Deep Throat
Back before we knew the real identity of the source that clued journalists Bob Woodward and Carl Bernstein into Richard Nixon's crimes at the Watergate hotel, many theorizednetwork news anchor Diane Sawyer was behind the leak. Sawyer was an aide in the Nixon White House and a high-profile target for amateur investigators. The real source was Mark Felt, the assistant director of the FBI, who revealed himself in 2005, shortly before his death.
82. Mark-Paul Gosselaar and Mario Lopez died in a car crash immediately following Saved by the Bell
There was nothing more devastating to middle schoolers in 1993 than the cancellation of Saved by the Bell… except the two main heartthrobs died in a car crash after celebrating the series' wrap. Thankfully the rumor was just that because who else could go on to host Extra? Screech?
81. Margot Robbie is actually in her 30s
The breakout Aussie actress says that she was born in 1990, but some think she's shaved five years off of her age, mostly using a 2008 article claiming she's 23 as proof that she got younger after getting famouser. Robbie's stans say that article is just wrong. Fake news strikes again.
80. The members of Wu-Tang Clan all had sex with a single groupie
This tale comes from a crazy place: Divorce Court. On an episode of the show, a man accused his wife of sneaking backstage at a Wu-Tang concert and sleeping with the entire rap collective in one night. When the band's manager posted a picture of the episode on Instagram, Method Man denied that it happened. "I would have spotted her and said which one of u bitches brought the chaperone," he wrote. "She's clearly an old-er [sic] thot." Ouch.